Recently passed legislation from Washington is already affecting markets in every state. More critical questions remain over whether it is enough to combat rising materials and labor costs.   See what our national affiliate ARTBA has to say
States Continue to Commit IIJA Funds to Projects in August
What happened: Driven by the Infrastructure Investment and Jobs Act (IIJA), states committed $10.2 billion in federal-aid highway construction funds in August 2022, up from $6.6 billion in funds obligated in August 2021.
Why it matters: With less than one month left in the federal fiscal year, states have obligated a total of $47.3 billion in funds, compared to $39.5 billion at this point in FY 2021.
What's next: The commitment of federal funds is a leading indicator of market activity. Typically the next step is for state transportation departments to bid and award the contracts so that construction activity can begin.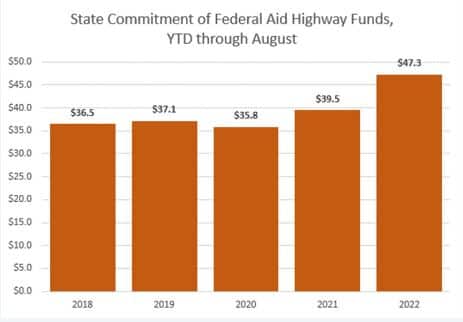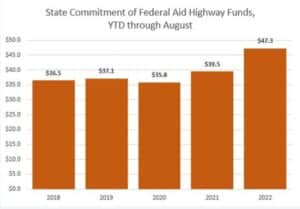 ARTBA Calls on Senate Leadership to Include Transportation in Permit Reform Discussions
What Happened: A Sept. 7 ARTBA letter urged Majority Leader Chuck Schumer (D-N.Y.) and Minority Leader Mitch McConnell (R-KY) to include the transportation sector in their ongoing discussions.
Why it Matters: Senate Democrats have agreed to consider a proposal by Senator Joe Manchin (D-W.Va.), but early indications are that the legislation will apply almost exclusively to energy projects.
In the letter, ARTBA asked the lawmakers to expand the scope of any measure to include transportation construction projects. ARTBA said that to realize the benefits of the Infrastructure Investment and Jobs Act (IIJA), Congress must reduce the current five to seven years it takes to review new transportation improvements. Specifically, the association asked the Senate to direct the White House Council on Environmental Quality (CEQ) to cease its repeal of 2020 reforms to the National Environmental Policy Act and instead implement the bipartisan project delivery reforms in the IIJA.
What's Next: While there is no timetable for considering Manchin's legislation, it could be brought to a Senate vote in coming weeks.
LAST CALL:
Vote for 2022-23 ARTBA Officers & Directors
Members: Please complete your ballot and submit
by close of business TODAY, Friday, Sept. 9.
Suicide Prevention Week Sept. 4-10 Shows Importance of Treating Mental Health Issues in Construction
What's the challenge? Construction industry workers are disproportionally affected by mental health issues, including addiction to opioids and suicide.
Why it matters: The U.S. Centers for Disease Control (CDC) confirms that the construction industry has a rate of suicide four times higher than the general public. The strenuous conditions workers face can cause recurring pain and musculoskeletal injuries that can lead to opioid addiction and suicide. In 2021 over 100,000 Americans died from drug overdoses, and construction workers were disproportionately over-represented in those deaths. Moreover, mental health issues on the job can lead to unsafe project sites.
Helpful Resources: Workers and their employers have access to free resources on the topic. Working with government and industry partners, ARTBA has assembled links to tools designed to help employers and workers address mental health challenges.
Workplace Guidelines to Prevent Opioid and Substance Abuse for the Construction Trades.
As of July 16, dialing or texting 988 from anywhere in the U.S. will connect the user to the 988 Suicide and Crisis Lifeline. This easier-to-remember number can be used in addition to 800-273-TALK. (Additional information.)
CPWR Mental Health and Addiction Resources.
The Occupational Safety and Health Administration's (OSHA) guidance for preventing suicides in the construction sector.
For questions, contact ARTBA Senior Vice President of Safety & Education Brad Sant.
ARTBA Webinar: Recruiting & Retaining Veterans in the Transportation Construction Industry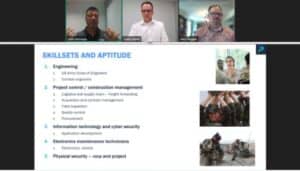 From left: Chuck McGregor (Parsons Corporation), moderator Chad Critcher (RS&H), and Lieutenant General (Retired) Perry L. Wiggins discussed the benefits of hiring veterans, resources available to employers for recruitment, and what this group of potential employees is looking for in the transition to the infrastructure sector during a Sept. 7 webinar. View webinar.
Upcoming ARTBA Events
2022 National Convention
Sept. 25-28
Nashville, Tennessee
Western & Central Regional Meeting
Oct. 25-27
Aspen, Colorado
Northeastern & Southern Regional Meeting
Featuring TransOvation™
Nov. 1-3
Kiawah Island, South Carolina
2022 Virtual National Work Zone Management Conference
Oct. 12-13
Explore e-Ticketing Technology Solutions at e-Ticketing Industry Day
Oct. 6-7
e-Ticketing, a Federal Highway Administration Every Day Counts 6 initiative, is a market-ready digital innovation that automates the recording and real-time transfer of material delivery information in digital format on highway construction and maintenance projects. e-Ticketing Industry Day will gather public and private subject matter experts, entrepreneurs, and solution providers in a first-ever, collaborative virtual event for this technology. Participants will meet other transportation infrastructure owner/client organizations driving demand and learn about future capabilities of technology solutions and implementation.
There is no cost to attend, however advance registration by Oct. 3 is required.